The motor driven Electro Magnetic Tracing Head on the carriage arm traces the prfile on the template, this enables the torch to duplicate any intricate shape provided on the template of the machine
รายละเอียด
เครื่องตัดแก๊สตามแบบ รุ่น CG2-150 SUMO
Profiling Gas Cutter Model CG2-150 SUMO
Standard configuration
1.Lift hand wheel for main shaft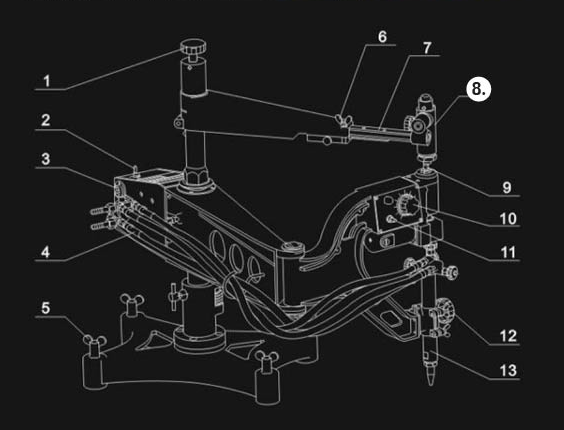 Features & benefits
The motor driven Electro Magnetic Tracing Head on the carriage arm traces the profile on the template, this enables the torch to duplicate any intricate shape provided on the template of the machine
The machines are designed with pantograph type arms providing a direct line guiding system
A simple and accurate magnetic tracing system helps in maintaining repeatability of the flame cut parts
Precis ball and needle bearing design of hinges ensure free and frictionless tracing, enabling greater cutting accuracy
The speed of the machine can be varied with an indexed selector knob. The tracing hard can be moved in clockwise or anticlockwise direction by a selector
Light weight, portable yet robust shape cutting machines suitable for on field jobs as well as for factories
Circle Cutting Unit installation
1.Loose Part 1 (Nut) and dismantle Part 2, Part 3; As shown in diagram (1)
2.Loose Part 4 (Big nut), take out Part 5, Put the circle temple inside and tighten the Part 4 (Big nut), As shown in diagram (2).
3.Screw Part 7 into Part 8, Insert the Part 8 into Part 5, then fix Part 9 into 8 and tighten the part 10(Screw), As shown in diagram(3)
4.Take Part 11 out from Part 13 (Magnet seat), then insert the Part 12 into Part 13.
5.Then insert Part 12 into the slot on Part 8, adjust the location according to the cutting circle diameter, then tighten by screw Part 7, As shown in diagram (5).




Template installation onto the main shaft
When cut the circle or arc within range Ø800mm-1800. drill first a hole Ø36mm, dismantle the arm assembly and arm assembly tube connection, install the template tube connection enclosed with the delivery onto the main shaft, then insert the template onto the template tube connection. Adjust the space between the template and magnet head and fix the template by 2 hexagonal nuts. As the template is comparatively big, the far end will drop when the center is fixed. So install the angle bar (Enclosed with the delivery) on the top tube connection, use the screws on two ends to hang the template in a horizontal plane, As shown in diagram.